Let's get straight to the point.
My "Fit Forever" Course will give you the WHOLE game and tools to unlock your bodies ultimate potential.
My courses are designed to tackle any limitations you have or think you may have in order to get you in the condition you desire.
The "Fit Forever" course has easy to watch videos breaking down some of the hacks and secrets that have been kept guarded in the fitness community for years. This course will teach you how to create meal plans, how to understand the chemicals that are put in your foods and why you may act the way you do, this course will tell you what foods will help you lose not weight, but body fat, this course will go deep into the metaphysics of nutrition, body and spirit and will show how food can be used to seduce people into doing what you want them to do.
As an Ordained Fitness Minister, my goal is not only to get your body right, but also to get your nutrition, spirit and mind right Body issues are easy to fix, but the foundation, which start in the mind, is essential for continued success.
Take a look at your current circumstances. You have tried this "getting in shape" thing over and over again, only to be right back where you started.
Most people were never given the proper tools to change your current mindset. Your mentality going into any fitness program is crucial to your overall success.
I was mindful with that, and as a bonus, I collaborated with a Certified Hypnotherapist in this course so that I can give you all the relevant tools that you will need to succeed and win this time!
I have also included many different Nutrition e-books that I have authored, including, the most powerful fitness and nutrition book out there today "UnF**k Your Health", videos and audio files to assist along your journey. There are also some other surprises. I also touch into the science of Masculine energy and Feminine energy. This is a complete overall health program. 
GET FIT FOREVER NOW!!
click to control your destiny https://brichscott.teachable.com/p/fit-forever-by-b-rich-scott
*Any new updates will automatically be uploaded to this site, so you never have to worry about any of the latest information when it comes to any course you purchase from this institution. This applies to ALL course materials.

Try one of our most powerful pre-workouts and fat burners on the market!
- B. Rich Scott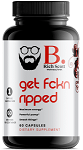 Check your inbox to confirm your subscription